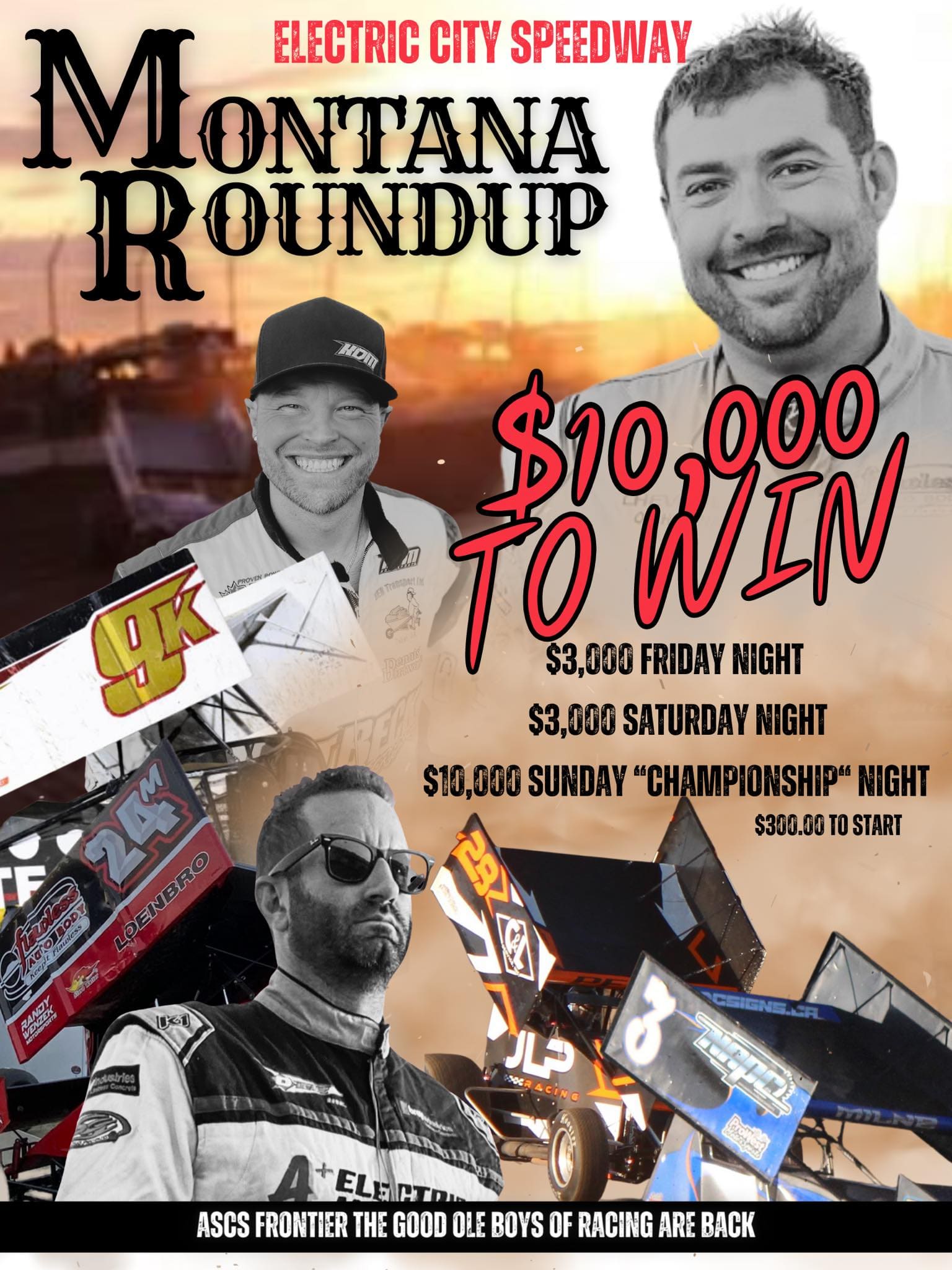 $10,000 Montana Roundup next for ASCS Frontier
Andrew Kunas, Stagg Motor Sports PR

GREAT FALLS, Mont. – Another five-figure payday up for grabs awaits the ASCS Frontier Region sprint car series, as the traditional three-night Montana Roundup occurs over Labor Day weekend at Electric City Speedway in Great Falls.

After a pair of $3,000-to-win features on Friday and Saturday nights, Sunday's finale will pay $10,000-to-win. That will come just eight days after the series raced for $12,012 in the Harvey Ostermiller Memorial, which was won by Jake Bubak, at Big Sky Speedway.

While this will be the 27th edition of the Montana Roundup, this year's will be the biggest yet after much behind the scenes work recently to secure the extra-large payout. There are only so many 360 sprint car events paying $10,000 or more to win around the country, and in Montana – seen by many around the rest of the country as a more remote area – the ASCS Frontier Region is racing for that much on consecutive weekends, as Stagg Motor Sports and its partner tracks continue their work to establish higher paying events in the region.

The current plan is for Friday's and Saturday's events at the 3/10-mile clay oval to feature the normal ASCS Frontier region format with pill draw for heat race lineups and the traditional passing points in heat race action. Main event finishing points from the two nights will be combined to set up Sunday's event, with the top 14 drivers in points locked into the A-Feature and the first eight taking part in a King of the Hill pole shuffle to determine the first four rows for the main event. Remaining cars will race in one or two B-Features, depending on car count. Eight cars will come out of that to create a 22-car field for the $10,000-to-win A-Feature.

Kelly Miller of Lethbridge, Alberta enters the weekend with an 18-point lead over Helena, Montana's Trever Kirkland, a lead that had shrunk over two nights at last weekend's Harvey Ostermiller Memorial. Miller, who is seeking his first title under ASCS sanctioning, won the first four main events of the season and quickly grew a large lead before struggles last weekend. Despite being winless this season, Kirkland's consistency, including four runner-up finishes and strong runs against the larger field last weekend, have helped keep him within striking distance of Miller.

Meanwhile, only 18 points separate third through fifth place in the standings. Third place Phil Dietz, the five-time Montana sprint car champion out of Laurel, sits just eight points ahead of Kory Wermling, himself just ten tallies ahead of Billings driver Joe Perry. Wermling is twice a winner in ASCS Frontier Region competition but has not won yet at his hometown track Electric City Speedway and will be looking to have a big weekend at home.

Last year's Montana Roundup saw main events won by eventual ASCS Frontier Region series champion Trever Kirkland on Friday, Tyler Driever on Saturday and Joe Perry in Sunday's finale.

Different classes will join the ASCS Frontier Region 360 sprint cars on the card over the course of the weekend, including WISSOTA street stocks, WISSOTA midwest modifieds, IMCA modifieds and WISSOTA super stocks. Admission each day is $18 for adults and $12 for those 55 years of age and older.
More information on the Brodix Frontier Region of the American Sprint Car Series, as well as the American Sprint Car Series National Tour and other ASCS regional series can be found online at www.ascsracing.com. Stagg Motor Sports, the promoting company of the ASCS Frontier Region, can be found at www.staggmotorsports.com.
– – –
Upcoming ASCS Frontier Region events
September 1 – Electric City Speedway – Great Falls, MT (Montana Roundup – Night 1)
September 2 – Electric City Speedway – Great Falls, MT (Montana Roundup – Night 2)
September 3 – Electric City Speedway – Great Falls, MT (Montana Roundup – Night 3)
September 8 – Gallatin Speedway – Belgrade, MT
September 9 – Big Sky Speedway – Billings, MT
– – –
ASCS Frontier Region
2023 points – Top 5

1. Kelly Miller, 1066
2. Trever Kirkland, 1048
3. Phil Dietz, 974
4. Kory Wermling, 966
5. Joe Perry, 956
– – –
2023 ASCS Frontier Region winners
May 19 – Kelly Miller at Big Sky Speedway
May 20 – Kelly Miller at Big Sky Speedway
May 26 – Rained out at Electric City Speedway
May 27 – Rained out at Electric City Speedway
June 9 – Postponed at Gallatin Speedway
June 10 – Postponed at Big Sky Speedway
June 16 – Kelly Miller at Gallatin Speedway
June 17 – Kelly Miller at Big Sky Speedway
July 7 – Logan Forler at Big Sky Speedway
July 8 – Logan Forler at Big Sky Speedway
August 4 – Rained out at Gallatin Speedway
August 25 – Logan Forler at Big Sky Speedway
August 26 – Jake Bubak at Big Sky Speedway
– – –
ASCS Frontier – Stagg Motor Sports
www.staggmotorsports.com
American Sprint Car Series
www.ascsracing.com