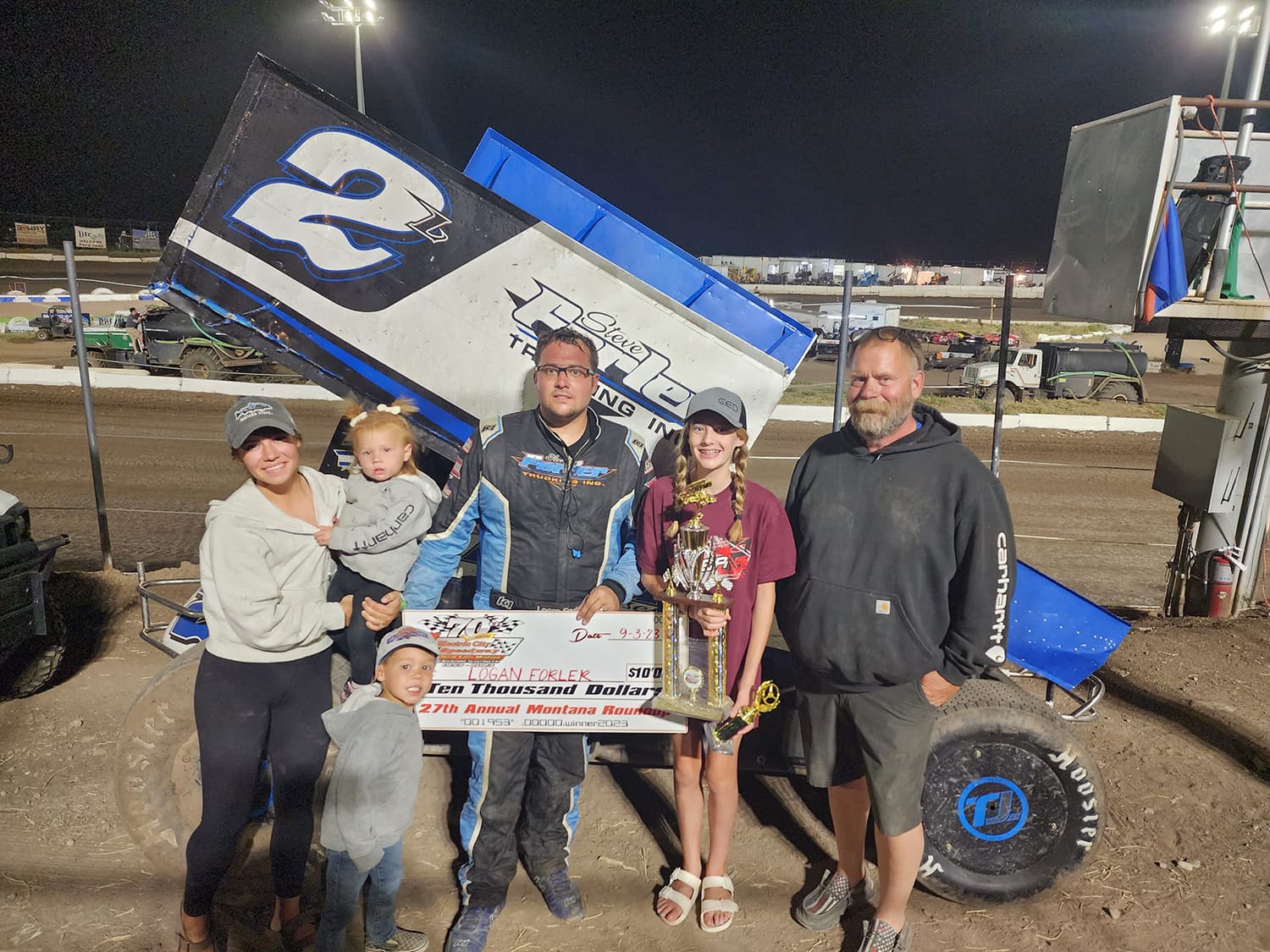 Forler bags $10k at the Montana Roundup
Andrew Kunas, Stagg Motor Sports PR
Photo credit – Andrew Kunas
GREAT FALLS, Mont. – Logan Forler scored one of the biggest wins of his sprint car racing career on Sunday night, earning $10,000 after taking the checkered flag in the Montana Roundup finale at Electric City Speedway.
The victory was Forler's fourth of the season with the ASCS Frontier Region. The Boise, Idaho driver led throughout the 35-lap feature, the longest main event in series history, aboard the family's No. 2L Fisher-powered Maxim.
Forler started on the pole of the main event after defeating Lethbridge, Alberta driver Kelly Miller in the final round of the King of the Hill pole shuffle earlier in the evening. Forler took the lead and jetted off to the lead the opening laps while Miller, who had won Friday's feature at the Great Falls clay oval, ran second ahead of Skylar Gee and Saturday winner Tyler Thompson. Forler quickly found himself in traffic and began lapping cars and putting them between himself and his pursuers.
Thompson eventually moved into second place and eventually got to where he could take a shot at Forler. The Harrisburg, Oregon driver attempted a slide job but climbed the wall and lost a tire, forcing him to the work area. After that, Forler was never seriously challenged again. Cautions late the in race would continue to clear the track for Forler, and Gee was unable to pose a challenge on the last restarts as Forler would motor away.
Sailing around the very top of the race track, Forler scraped the wall a couple of times in the last two laps but kept on the throttle and cruised to perhaps his biggest victory. After climbing out of the car in victory lane, the often-reserved Forler appeared exhausted but still thrilled with his win as he celebrated with his wife Raina and their children.
Forler finished on the podium all three nights at the Montana Roundup, having finished third on Friday night and second on Saturday.
Gee, the former series champion from Leduc, Alberta finished second aboard the Petersen/Nelson Bros. Racing No. 23n Scott Baylor-powered Triple X for his second podium finish in the three nights at Electric City Speedway, also having finished second on Friday. With a fourth place finish on Saturday included, it was a strong weekend for the Great Falls-based Peterson Family, who returned their familiar car to sprint car racing recently after a few years hiatus in partnership with the Nelson Bros. Racing team. This weekend's Montana Roundup was the 23n's first time back on its home track.
Miller, the ASCS Frontier Region points leader, finished third in the KDM Motorsports No. 2jr Custom Automotive-powered Eagle. Miller was on the podium all three nights, finishing third on Saturday night after his Friday night win. Miller extended his points lead to 72 tallies over defending series champion Trever Kirkland with four ASCS Frontier Region races remaining.
Lindsay, Oklahoma's Harli White moved up from the tenth starting position to finish fourth. After his earlier misfortune, Thompson stormed back through the field to finish fifth. Kirkland finished sixth ahead of Kory Wermling and Shad Petersen. Alberta driver Jordan Milne earned the hard charger nod, coming from 18th to finish ninth. Joe Perry rounded out the Top 10.
No heat races were held on Sunday as main event points from Friday and Saturday were combined to help determine main event lineups, with the top 14 locked into the 35-lap feature and remaining cars running a B-Feature. James Setters won the B-Feature and was among the six to transfer to the finale. The top eight drivers in points ran a King of the Hill pole shuffle, running a series of two-lap match races to settle the first four rows in the feature lineup.
The ASCS Frontier Region continues its season on Friday, September 8th with its last appearance of 2023 at Gallatin Speedway in Belgrade, Montana. The series visits Big Sky Speedway outside Billings the next night, Saturday, September 9th.
More information on the Brodix Frontier Region of the American Sprint Car Series, as well as the American Sprint Car Series National Tour and other ASCS regional series can be found online at www.ascsracing.com. Stagg Motor Sports, the promoting company of the ASCS Frontier Region, can be found at www.staggmotorsports.com.
– – –
ASCS Frontier Region
27th Annual Montana Roundup
Electric City Speedway
Great Falls, MT
September 3, 2023
UNOFFICIAL RESULTS
27 cars
King of the Hill Pole Shuffle: 2L Logan Forler def. 2jr Kelly Miller in final round
B-Feature (15 laps): 1. 2s James Setters, 2. 28 Joe Perry, 3. 56 Ross Mathewson, 4. 3 Jordan Milne, 5. 6g Bryan Gossel, 6. 16g Austyn Gossel, 7. 49 Mike Monahan, 8. 35m Cody Masse, 9. 4p Leroy Brush, 10. 34 T.J. Richman, 11. 66 Fred Holz, 12. 81 Darren Smith, 13. 5c Channing Filler. First six finishers transferred to Feature.
Feature (35 laps): 1. 2L Logan Forler, 2. 23n Skylar Gee, 3. 2jr Kelly Miller, 4. 12hw Harli White, 5. 35km Tyler Thompson, 6. 37 Trever Kirkland, 7. 9k Kory Wermling, 8. 2 Shad Petersen, 9. 3 Jordan Milne, 10. 28 Joe Perry, 11. 01 Rich Bailey, 12. 2s James Setters, 13. 0J Jeremy McCune, 14. 24m Ian Myers, 15. 38n Mark Tabor II, 16. 6g Bryan Gossel, 17. 16g Austyn Gossel, 18. 10L Brock Lemley, 19. 56 Ross Mathewson, 20. 72 Phil Dietz.
– – –
September 8 – Gallatin Speedway – Belgrade, MT
September 9 – Big Sky Speedway – Billings, MT
September 22 – Big Sky Speedway – Billings, MT
September 23 – Big Sky Speedway – Billings, MT (Fall Finale)
– – –
2023 ASCS Frontier Region winners
May 19 – Kelly Miller at Big Sky Speedway
May 20 – Kelly Miller at Big Sky Speedway
May 26 – Rained out at Electric City Speedway
May 27 – Rained out at Electric City Speedway
June 9 – Postponed at Gallatin Speedway
June 10 – Postponed at Big Sky Speedway
June 16 – Kelly Miller at Gallatin Speedway
June 17 – Kelly Miller at Big Sky Speedway
July 7 – Logan Forler at Big Sky Speedway
July 8 – Logan Forler at Big Sky Speedway
August 4 – Rained out at Gallatin Speedway
August 25 – Logan Forler at Big Sky Speedway
August 26 – Jake Bubak at Big Sky Speedway
September 1 – Kelly Miller at Electric City Speedway
September 2 – Tyler Thompson at Electric City Speedway
September 3 – Logan Forler at Electric City Speedway
– – –
ASCS Frontier – Stagg Motor Sports
www.staggmotorsports.com
American Sprint Car Series
www.ascsracing.com