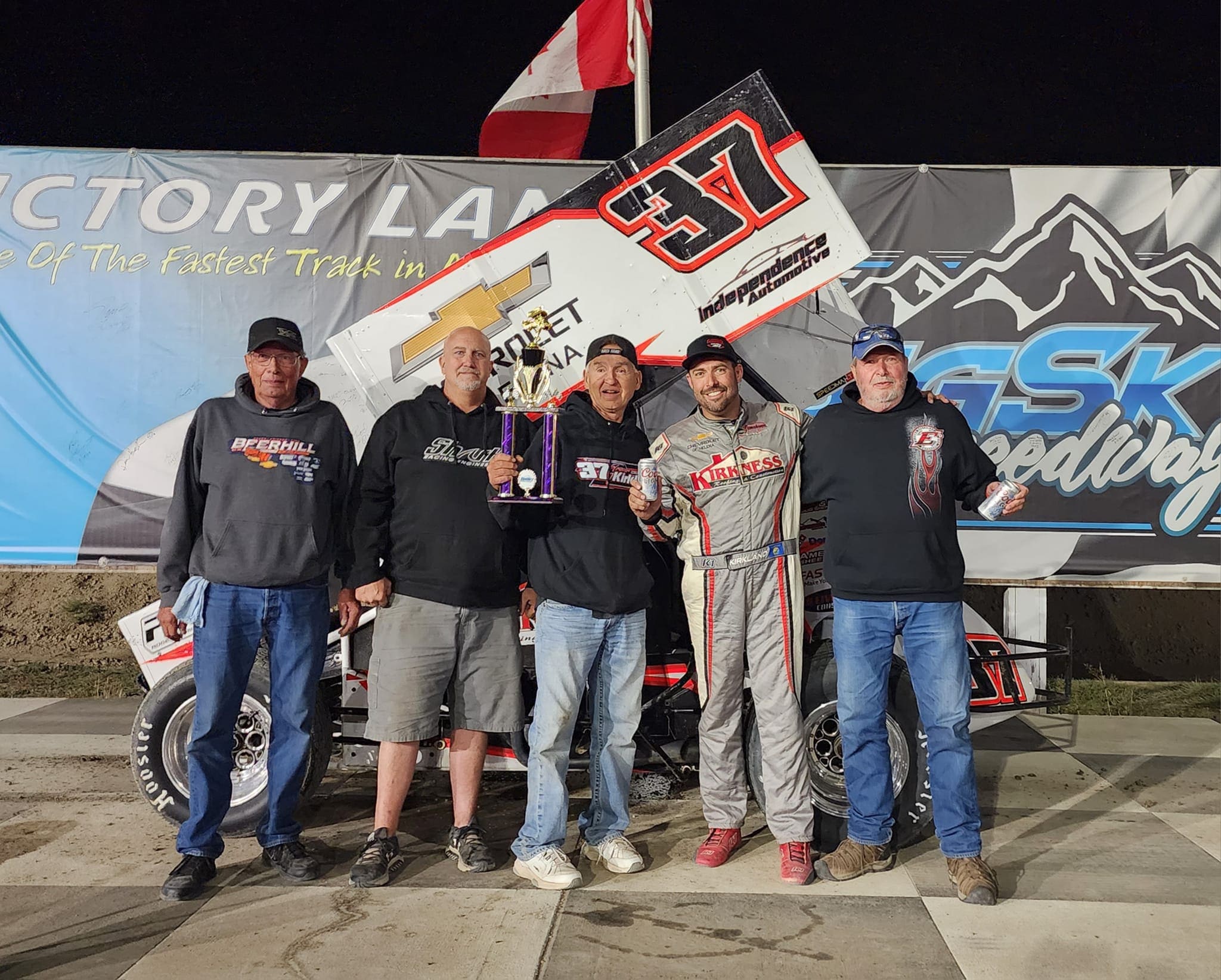 Kirkland wins ASCS Frontier at Big Sky
Andrew Kunas, Stagg Motor Sports PR
Photo credit: Andrew Kunas
BILLINGS, Mont. – Trever Kirkland snapped a long winless streak and won his first ASCS Frontier Region sprint car feature of the season Saturday night at Big Sky Speedway.
Kirkland took over the lead at the midway point of the race when leader Kory Wermling crashed while navigating around slower cars. Kirkland never looked back and led the rest of the way from there. The reigning ASCS Frontier Region series champion from Helena, Montana had gone winless in the last 16 series events going back to late last season.
Kirkland started the 25-lap feature in fourth and had an excellent start, immediately moving up to the runner-up spot behind Wermling, who started on the outside of the front row. Over the first 13 laps that were caution-free, Wermling maintained a healthy, steady lead over Kirkland as they zipped around the top of the 3/8-mile clay oval.
Wermling, also in pursuit of his first win of the season, cleared one set of slower cars without issue early on. As Kirkland began to close in a little as they reached the halfway point, Wermling came upon two slower cars again at a high rate of speed as they entered Turn 1. Wermling went up top and cleared one before contact with the second car sent Wermling getting airborne and flying off the track in Turn 2, backing into the wall behind the track hard.
While Wermling never went upside down, the frightening impact prompted track officials to throw the red flag. Though shaken up, Wermling climbed out of his car under his own power and was talking with people in the pit area after the race.
With Kirkland now out front, his longtime friend and competitor Phil Dietz tried to make a move on the restart with 12 laps remaining, but Kirkland motored away and led the remaining half of the race aboard the Kirkland Racing No. 37 Shark-powered Triple X, despite his motor overheating.
Kirkland's last victory with the ASCS Frontier Region was September 2, 2022, at Electric City Speedway, 372 days prior. Kirkland was competitive all this season, leading in several races and finishing second place on four occasions. While thrilled to finally break through and visit victory lane again, Kirkland quickly dedicated the win to Bill Boyce, the Alberta sprint car great who passed away earlier in the week.
Dietz finished second aboard the Dietz Racing No. 72 Rodgers-powered Maxim for the second time in as many nights, having finished runner-up at Gallatin Speedway on Friday.
Series points leader Kelly Miller, who won his sixth race of the season at Gallatin Speedway on Friday, backed that up with another podium run, finishing third aboard the KDM Motorsports No. 2jr Custom Automotive-powered Eagle. His tenth Top 5 finish in 13 completed races this season helped the Lethbridge, Alberta driver maintain his points lead. Miller leads Kirkland by 82 points with just two races remaining.
Joe Perry finished fourth after starting seventh, and Ian Myers finished fifth after starting eighth.
Miller and Wermling won heat races earlier in the evening.
The ASCS Frontier Region sprint car series will conclude its 2023 season with a two-night event at Big Sky Speedway on Friday and Saturday, September 22nd and 23rd. Kelly Miller will look to secure his first ASCS title that weekend.
More information on the Brodix Frontier Region of the American Sprint Car Series, as well as the American Sprint Car Series National Tour and other ASCS regional series can be found online at www.ascsracing.com. Stagg Motor Sports, the promoting company of the ASCS Frontier Region, can be found at www.staggmotorsports.com.
– – –
ASCS Frontier Region
Big Sky Speedway
Billings, MT
September 9, 2023
UNOFFICIAL RESULTS
10 cars
Heat 1 (8 laps): 1. 2jr Kelly Miller, 2. 37 Trever Kirkland, 3. 28 Joe Perry, 4. 82c Christian Kinnison, DNS – 12 Josh Ostermiller.
Heat 2 (8 laps): 1. 9k Kory Wermling, 2. 72 Phil Dietz, 3. 24m Ian Myers, 4. 81 Darren Smith, 5. 0J Jeremy McCune
Feature (25 laps): 1. 37 Trever Kirkland, 2. 72 Phil Dietz, 3. 28 Joe Perry, 4. 28 Joe Perry, 5. 24m Ian Myers, 6. 82c Christian Kinnison, 7. 81 Darren Smith, 8. 9k Kory Wermling, 9. 12 Josh Ostermiller, DNS – 0J Jeremy McCune.
Lap leaders: Kory Wermling 1-13, Trever Kirkland 14-25
– – –
September 22 – Big Sky Speedway – Billings, MT
September 23 – Big Sky Speedway – Billings, MT (Fall Finale)
– – –
2023 ASCS Frontier Region winners
May 19 – Kelly Miller at Big Sky Speedway
May 20 – Kelly Miller at Big Sky Speedway
May 26 – Rained out at Electric City Speedway
May 27 – Rained out at Electric City Speedway
June 9 – Postponed at Gallatin Speedway
June 10 – Postponed at Big Sky Speedway
June 16 – Kelly Miller at Gallatin Speedway
June 17 – Kelly Miller at Big Sky Speedway
July 7 – Logan Forler at Big Sky Speedway
July 8 – Logan Forler at Big Sky Speedway
August 4 – Rained out at Gallatin Speedway
August 25 – Logan Forler at Big Sky Speedway
August 26 – Jake Bubak at Big Sky Speedway
September 1 – Kelly Miller at Electric City Speedway
September 2 – Tyler Thompson at Electric City Speedway
September 3 – Logan Forler at Electric City Speedway
September 8 – Kelly Miller at Big Sky Speedway
September 9 – Trever Kirkland at Big Sky Speedway
– – –
ASCS Frontier – Stagg Motor Sports
www.staggmotorsports.com
American Sprint Car Series
www.ascsracing.com