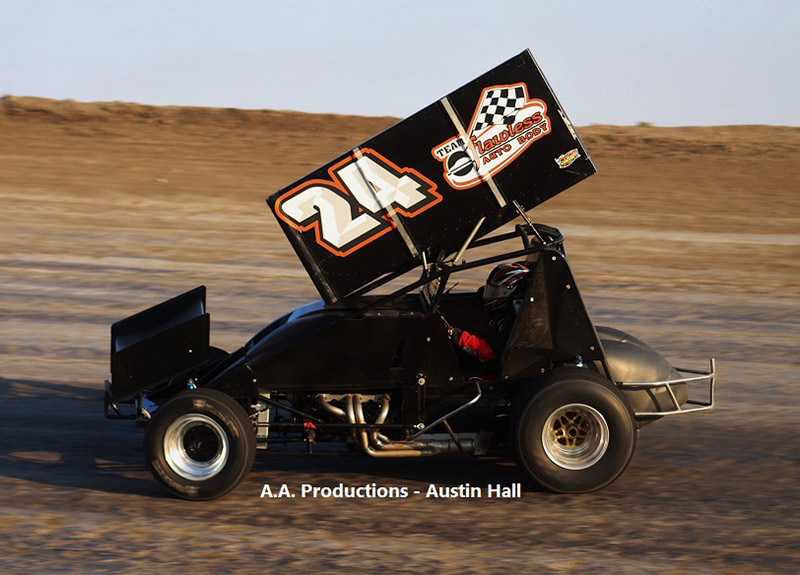 Ian Myers to run several ASCS Frontier events, get taste of 360 action
Andrew Kunas, Stagg Motor Sports PR
On track photo credit: A.A. Productions – Austin Hall
GREAT FALLS, Mont. – One of the most important things in racing is getting new drivers going up through the ranks to secure the future of the sport. It's no different in Montana sprint car racing, and a glimpse of the future may be coming in the form of Great Falls driver Ian Myers, who plans to run several ASCS Frontier Region events in 2022.
The soon to be 16-year-old only recently moved into sprint car racing, driving a limited sprint car put together by his family a handful of times at his home track, Electric City Speedway. He then got a taste of 360 action when he traveled south on Labor Day weekend last season, joining the ASCS Frontier Region tour for events in Wyoming and Utah. His best finish aboard his family's No. 24 was a 12th place effort at Desert Thunder Raceway.
Though they expect not to run the entire season, the plan is for Myers to run as many events as possible with the ASCS Frontier Region, which races primarily in Myers' home state of Montana. Seven events are scheduled at Electric City Speedway in Great Falls, where Myers already has some experience in the limited.
Myers started racing quarter midgets at just five years of age, racing those for several years before getting into cage kart racing, competing at Big Sky Kartway outside Missoula before that venue shut down. It was around that time that they struck up a friendship with former Montana sprint car champion Trever Kirkland, and Ian's father Jeramy and his business Flawless Auto Body began sponsoring Kirkland's sprint car team and, while they were at it, learned what they could about sprint car racing. The family eventually found a limited sprint car up in Canada and got their hands on it, allowing Ian to compete in a few Rocky Mountain Sprints events at Electric City.
Expecting to race in the 360 far more often, it will be a new experience for Myers in 2022.
"I am really looking forward to be racing with experienced drivers and getting the feel of what my sprint car has. I am hoping to get better every race this season," Myers said.
Myers' No. 24 car is a Triple X with a Kennedy motor under the hood. Sponsoring the team are the Pit Stop Tavern, Flawless Auto Body, Loenbros, 3-way Autobody, Owen Robinson, Pacers Sign & Design, Dave Freeman's Racers Parts Supply, Axalta Racing, and Randy Wenzek.
The Brodix Frontier Region of the American Sprint Car Series kicks off its 2022 season with the Utah Sprint Car Clash on May 20th and 21st at Desert Thunder Raceway in Price, Utah before heading to Electric City Speedway for the Montana Spring Round-Up on May 27th and 28th. More information on the ASCS Frontier Region can be found online at www.ascsracing.com. Stagg Motor Sports, the promoting company of the ASCS Frontier Region, can be found at www.staggmotorsports.com.
– – –
Upcoming ASCS Frontier Region events
May 20th & 21st
Utah Sprint Car Clash
Desert Thunder Raceway – Price, UT
May 27th & 28th
Montana Spring Round-Up
Electric City Speedway – Great Falls, MT
– – –
ASCS Racing
www.ascsracing.com
Stagg Motor Sports
www.staggmotorsports.com
Contact:
Josh Stagg, ASCS Frontier Region promoter – josh@staggmotorsports.com
Andrew Kunas, public relations & announcer – andrew@staggmotorsports.com