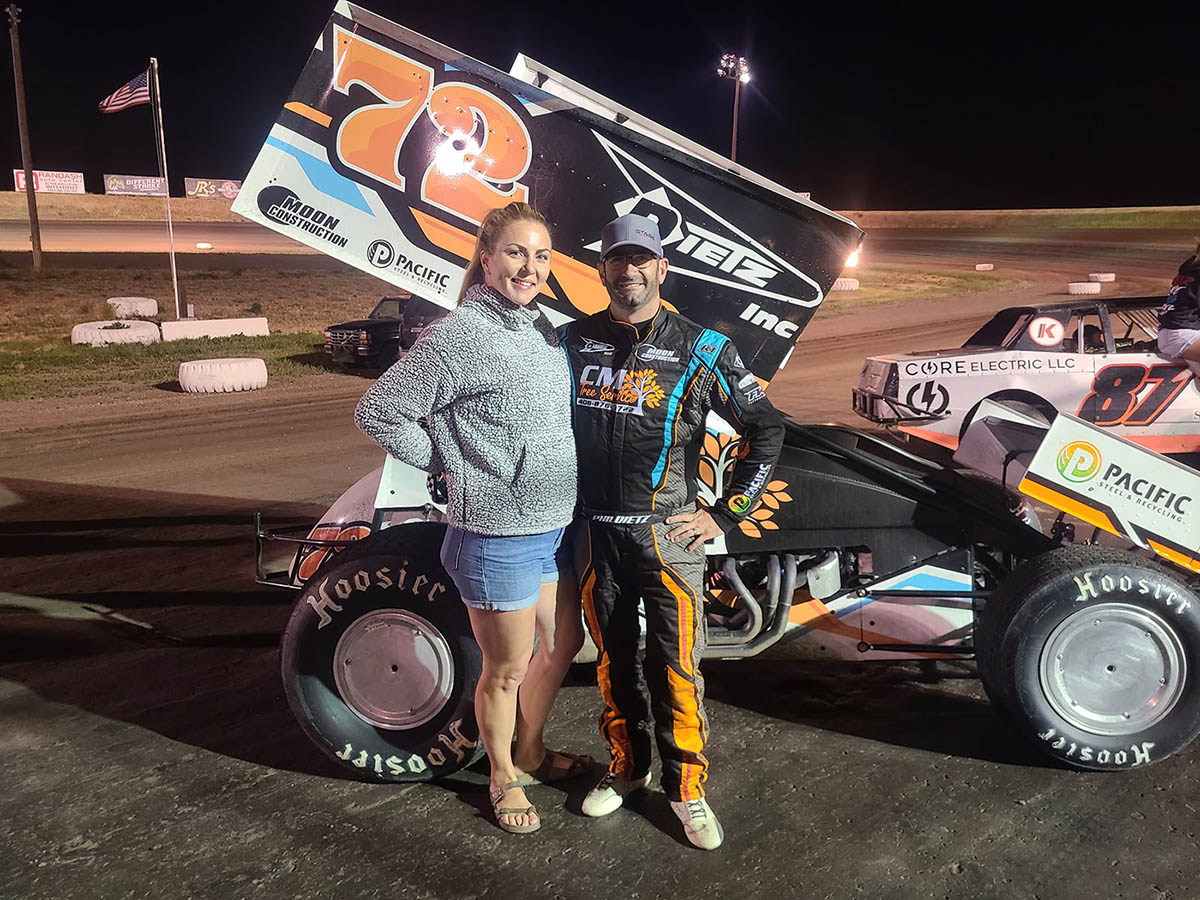 Dietz makes late pass, bags ASCS Frontier checkers at Gallatin
Andrew Kunas, Stagg Motor Sports PR
Photo credit – Andrew Kunas
BELGRADE, Mont. – Phil Dietz made a late race pass around a longtime friend and competitor and scored his first ASCS Frontier Region sprint car victory of the season Friday night at Gallatin Speedway.
The five-time Montana sprint car champion out of Laurel, Montana started the 25-lap feature outside the second row and immediately took over the third position on the start while Helena, Montana's Trever Kirkland led the opening lap. Dietz ran third for a time before muscling his way by Meridian, Idaho's Tyler Driever for second place. He eventually went after his friend Trever Kirkland for the lead, and got it.
The win came before yet another packed grandstand at Gallatin Speedway for Dietz aboard his No. 72 Panella-powered Maxim.
It was a big turnaround from what had been a miserable start to the season for Dietz. Originally setting out for a run at a sixth championship, Dietz blew a motor in hotlaps on opening night at Electric City Speedway and missed the next night because of it. He was later involved in a melee on the start of the June 11th race at Big Sky Speedway that saw him lose his top wing. He put a spare on in the work area and somehow managed a Top 5 finish out of that. After all that, Dietz and his team, including wife Lisa, were all smiles after scoring the victory Friday night.
Dietz's win was his tenth career ASCS Frontier Region victory, and his fourth at Gallatin Speedway.
Kirkland was involved in the same June 11th crash at Big Sky Speedway as Dietz. Despite destroying a car, Kirkland was still the series points leader after that race. Despite not holding on the for the win Friday night, it was still a bounce back for Kirkland, who finished second aboard his No. 37 Shark-powered Triple X. He also increased his points lead over Coaldale, Alberta's Kelly Miller, who finished sixth, by 20 points and now unofficially leads by 36 tallies.
After a miserable start to his season as well, Driever scored his second consecutive podium finish, taking third aboard the family's No. 33t Shark-powered Maxim. This came after an intense late race battle for the position with Roy, Washington's Lane Taylor, who eventually finished fourth ahead of Kory Wermling, who moved into third place in the points with his fifth place finish. The rest of the Top 10 were Miller, Bryan Brown, Jordan Milne, Ross Mathewson and Decklyn Fleming.
The feature was slowed by a caution flag just once, coming with 11 laps completed.
Heat races earlier in the evening were won by Driever and Dietz.
The series next moves to Electric City Speedway in Great Falls, Montana for a special Sunday and Monday holiday event, July 3rd and 4th, as part of the track's Fireball Special. Racing starts at 7:00 p.m. both nights.
More information on the Brodix Frontier Region of the American Sprint Car Series can be found online at www.ascsracing.com. Stagg Motor Sports, the promoting company of the ASCS Frontier Region, can be found at www.staggmotorsports.com.
– – –
Brodix ASCS Frontier Region
Grizzly Showdown
Gallatin Speedway
Belgrade, MT
July 1, 2022
UNOFFICIAL RESULTS
Heat 1 (8 laps): 1. 33t Tyler Driever, 2. 37 Trever Kirkland, 3. 31 Shane Moore, 4. 56 Ross Mathewson, 5. 38b Bryan Brown, 6. 7f Decklyn Fleming.
Heat 2 (8 laps): 1. 72 Phil Dietz, 2. 9k Kory Wermling, 3. 4L Lane Taylor, 4. 2jr Kelly Miller, 5. 3 Jordan Milne, 6. 17f Paxton Fleming.
Feature (25 laps): 1. 72 Phil Dietz, 2. 37 Trever Kirkland, 3. 33t Tyler Driever, 4. 4L Lane Taylor, 5. 9k Kory Wermling, 6. 2jr Kelly Miller, 7. 38b Bryan Brown, 8. 3 Jordan Milne, 9. 56 Ross Mathewson, 10. 7f Decklyn Fleming, 11. 17f Paxton Fleming, 12. 31 Shane Moore.
– – –
Upcoming ASCS Frontier Region events
July 3rd & 4th
4th of July Fireball Special
Electric City Speedway – Great Falls, MT
July 15th & 16th
Big Sky 360 Nationals
Big Sky Speedway – Billings, MT
– – –
2022 ASCS Frontier Region feature winners
May 27 – Trever Kirkland at Electric City Speedway
May 28 – James Setters at Electric City Speedway
June 10 – Colby Thornhill at Gallatin Speedway
June 11 – Colby Thornhill at Big Sky Speedway
July 1 – Phil Dietz at Gallatin Speedway
– – –
ASCS Racing
www.ascsracing.com
Stagg Motor Sports
www.staggmotorsports.com
Contact:
Josh Stagg, ASCS Frontier Region coordinator & promoter – josh@staggmotorsports.com
Andrew Kunas, public relations & announcer – andrew@staggmotorsports.com