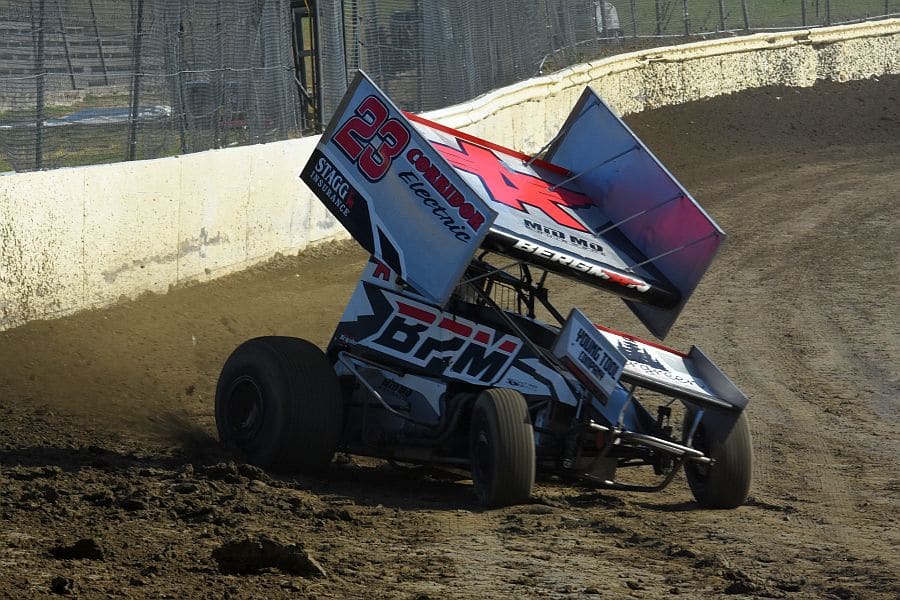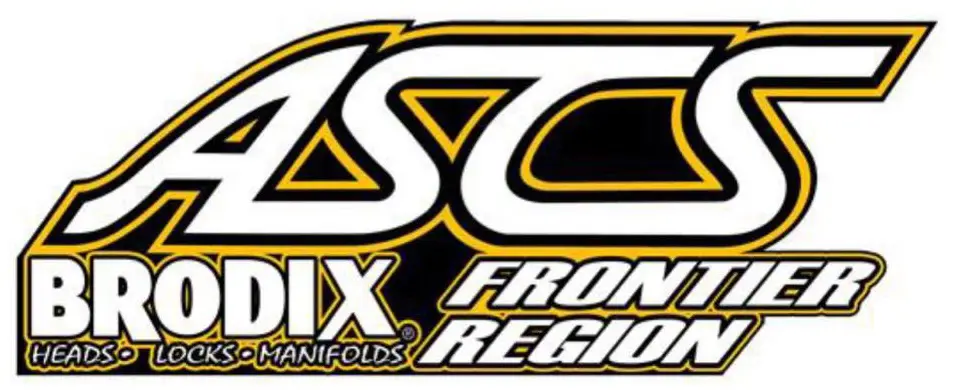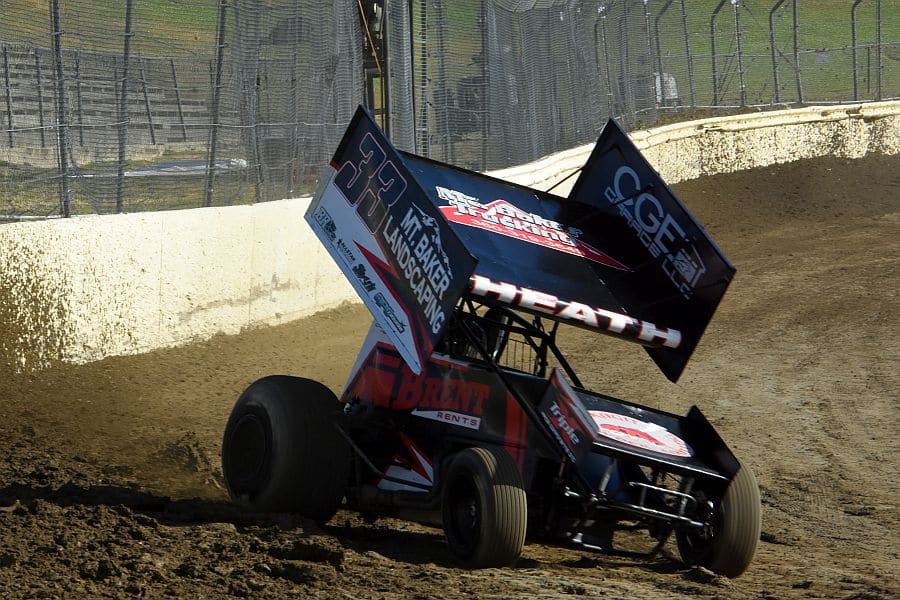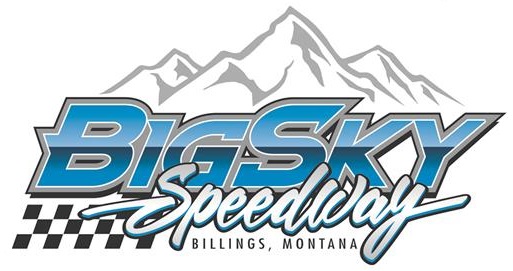 Entries continue to roll in for $12,012 Harvey Ostermiller Memorial
Andrew Kunas, Stagg Motor Sports PR
Colton Heath (33) photo credit – Malcolm White Photography
Seth Bergman (23) photo credit – Malcolm White Photography
BILLINGS, Mont. – As the $12,012-to-win Harvey Ostermiller Memorial at Big Sky Speedway approaches for the ASCS Frontier Region sprint car series, entries continue to be confirmed for one of the largest sprint car events ever in the state of Montana.
Though they made their intentions clear to ASCS Frontier Region personnel in July, entries were officially confirmed by Big Sky Speedway in the last couple of days for a pair of Washington State heavyweights.
Marysville, Washington's Colton Heath has thrown his hat in the ring. The multi-time Skagit Speedway champion has three wins to his credit this season. In May he won the prestigious Marvin Smith Memorial Grove Classic at Cottage Grove Speedway in Oregon. In the last month he has won twice at his home track Skagit Speedway, including the preliminary night of the Summer Nationals. Heath will look to add a Harvey Ostermiller victory to his resume this weekend.
From Snohomish, Washington and now living in Oklahoma, Seth Bergman will be a making a return visit to Big Sky Speedway, which he had visited several times in the past with the ASCS National Tour. He's also won at the Billings, Montana facility, taking a pair of ASCS Frontier Region victories in July 2020. Bergman has five wins this year, including ASCS National Tour and ASCS Sooner Region victories in Oklahoma. He's also won in his home state of Washington, taking a victory each at Grays Harbor Raceway and Skagit Speedway.
Lindsay, Oklahoma's Harli White, the only female racer to ever win an ASCS National Tour event, was also confirmed as an entry. White is another driver with past Big Sky Speedway experience, having also visited with the ASCS National Tour. White has one sprint car victory in 2023, coming at Waynesfield Motorsports Park in Ohio.
Jake Bubak of Lincoln, Nebraska could be seen as one of the contenders, having won in both 360 and 410 sprint cars as well as midgets this year. He won an ASCS National Tour race earlier this season in Kansas, and has other sprint car victories in Colorado, Missouri and South Dakota. Bubak also won twice with the Rocky Mountain Midget Racing Association this year.
Windsor, Colorado's Austyn Gossel, a previous Big Sky Speedway visitor, is also coming for the Harvey Ostermiller Memorial. Gossel has won twice this year, including recently picking up an ASCS regional win at El Paso County Raceway in Colorado. In May he earned an ASCS Northern Plains win at Casper Speedway in Wyoming.
Harrisburg, Oregon's Tyler Thompson, a former Cottage Grove Speedway track champion, has announced that he too is coming to Montana to race. Thompson has numerous victories to his credit in both 360 and limited sprint cars in his home state, while also getting more experience racing 410 sprint cars in the last couple of years.
2016 ASCS Frontier Region champion Skylar Gee, who has been racing in the eastern part of the country the last few years, will return to Big Sky Speedway to race the No. 23n for the Peterson Family, who have returned after a hiatus of a few years. Gee, from Alberta, is a former main event winner at Big Sky Speedway also, and since also scored an All-Star Circuit of Champions victory out east.
Those drivers and more will be joining the already announced entries this Friday and Saturday, including California's Dominic Scelzi, North Dakota's Ryder Olson and Texan-turned-Montana resident Christian Kennison. Two-time and defending Harvey Ostermiller Memorial winner Logan Forler of Boise, Idaho is expected to attend and go for the three-peat. The usual ASCS Frontier bunch are expected, including points leader Kelly Miller of Alberta. Former ASCS Frontier Region champions including Phil Dietz, Jeremy McCune and reigning champion Trever Kirkland will also be on hand.
$3,000 is on the line to win Friday's event, before Saturday's finale pays $12,012 to win and $512 to start. The largest winner's payday previously in ASCS Frontier Region action, outside of those part of ASCS National Tour races, was a $2,500 check at Sheridan Speedway in Wyoming in 2021. This weekend the series will race for a record payday two nights in a row.
Joining the ASCS Frontier Region 360 sprint cars both days will be wingless limited sprint cars, IMCA modifieds and INEX Legends. Admission each night is $25, and $15 for seniors.
Those unable to attend but want to watch still can do so at www.speedmax.tv.
More information on the Brodix Frontier Region of the American Sprint Car Series, as well as the American Sprint Car Series National Tour and other ASCS regional series can be found online at www.ascsracing.com. Stagg Motor Sports, the promoting company of the ASCS Frontier Region, can be found at www.staggmotorsports.com.
– – –
Upcoming ASCS Frontier Region events
August 25 – Big Sky Speedway – Billings, MT (Harvey Ostermiller Memorial – Night 1)
August 26 – Big Sky Speedway – Billings, MT (Harvey Ostermiller Memorial – Night 2)
September 1 – Electric City Speedway – Great Falls, MT (Montana Roundup – Night 1)
September 2 – Electric City Speedway – Great Falls, MT (Montana Roundup – Night 2)
September 3 – Electric City Speedway – Great Falls, MT (Montana Roundup – Night 3)
– – –
Harvey Ostermiller Memorial
Past Winners
2017 – Travis Rilat
2018 – J.J. Hickle
2019 – Jordon Mallett
2020 – no race
2021 – Logan Forler
2022 – Logan Forler
– – –
2023 ASCS Frontier Region winners
May 19 – Kelly Miller at Big Sky Speedway
May 20 – Kelly Miller at Big Sky Speedway
May 26 – Rained out at Electric City Speedway
May 27 – Rained out at Electric City Speedway
June 9 – Postponed at Gallatin Speedway
June 10 – Postponed at Big Sky Speedway
June 16 – Kelly Miller at Gallatin Speedway
June 17 – Kelly Miller at Big Sky Speedway
July 7 – Logan Forler at Big Sky Speedway
July 8 – Logan Forler at Big Sky Speedway
August 4 – Rained out at Gallatin Speedway
– – –
ASCS Frontier – Stagg Motor Sports
www.staggmotorsports.com
American Sprint Car Series
www.ascsracing.com