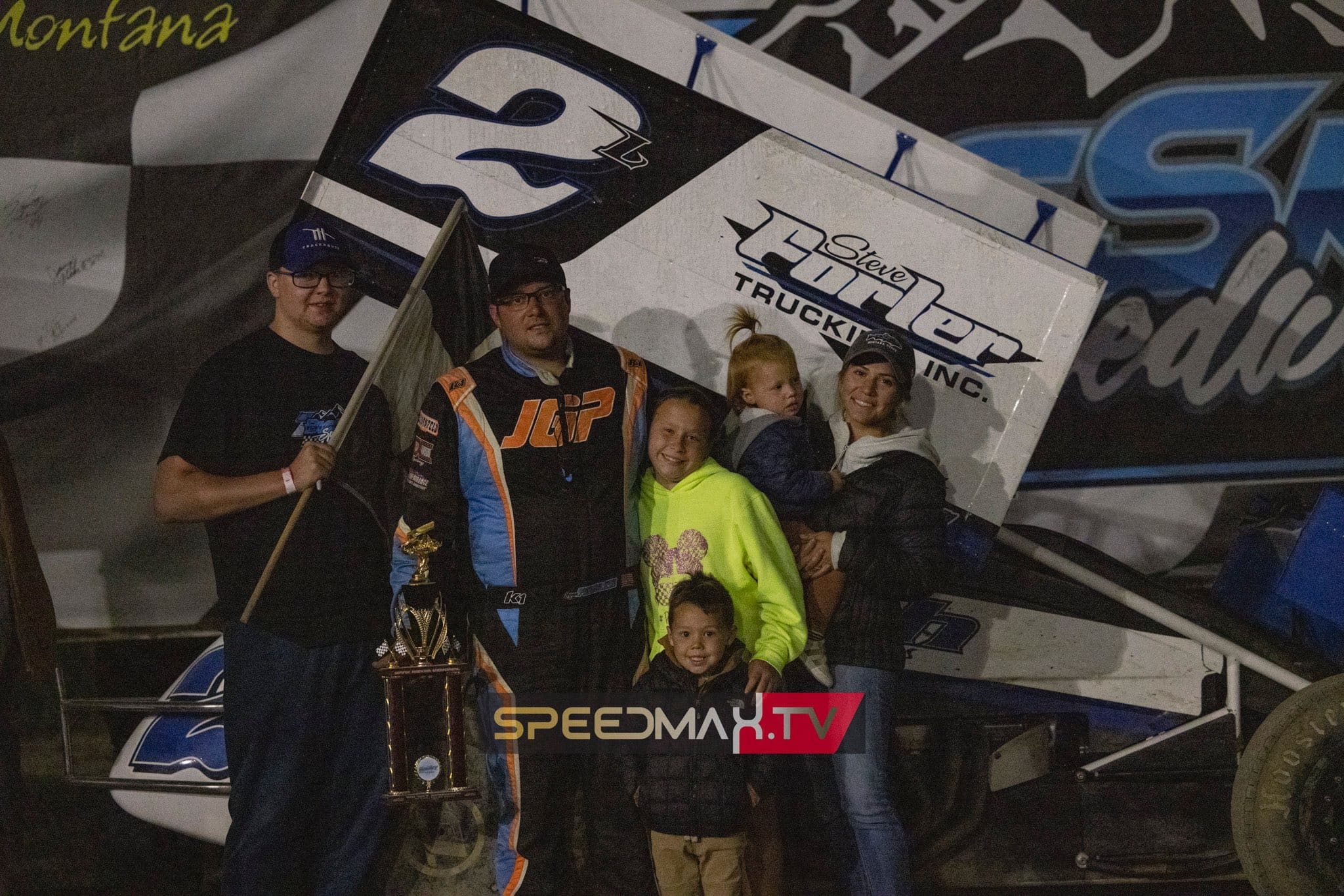 Forler wins chaotic ASCS Frontier race at Big Sky
Andrew Kunas, Stagg Motor Sports PR

Photo credit – Jeff Quinn, Speedmax.tv

BILLINGS, Mont. – Logan Forler emerged victorious after one of the wilder ASCS Frontier Region sprint car main events in recent memory, surviving an attrition-filled event to win for the second time in as many nights at Big Sky Speedway.

The Boise, Idaho driver had dominated the night before, leading all 25-laps from the pole in Friday's feature. Saturday, however, saw Forler having to work his way from the ninth starting position and having a little luck fall his way.

Defending series champion Trever Kirkland took the lead on the initial start and soon was in traffic. The craziness started with eight laps completed when contact was made between Kirkland and the lapped car of Kyle Evans. Evans spun out to bring out the caution flag while Kirkland's nose wing support was damaged.

Kirkland continued leading the race while Forler had picked off a few cars to eventually move into the Top 5. A pair of Top 5 cars, Phil Dietz and then points leader Kelly Miller, each brought out cautions, each time moving Forler up another position and bunching the field back together for a restart.

In the late stages, Kirkland's nose wing had folded back on him, affecting his handling. Kory Wermling, who had run in second place the entire event up to this point, nearly passed him for the lead with six laps to go, only to have to check up for a slower car he and Kirkland were passing, and Forler meanwhile had moved into third. Wermling then slid into the slowing car of Phil Dietz and came to a stop, ending his bid for a for victory and all of a sudden putting Logan Forler in the runner-up spot behind Kirkland.

Kirkland managed to hold onto the lead on the restart as Forler uncharacteristically didn't have a great start. Over the next four laps Forler reeled in on Kirkland, getting within a couple of car lengths with less than two laps to go. Disaster struck for Kirkland as they were rounding Turn 4, expecting to see the white flag next. Forler was running low, trying to make a pass for the lead, when Kirkland's car got over the top of the track and wildly slid back into the wall behind the start of the front stretch.

With Kirkland's huge misfortune, Forler found himself in the lead for a green-white-checkered finish. He easily cruised from there to win aboard the Forler No. 2L Fisher-powered Maxim.

After winning the 2021 ASCS Frontier Region series championship, Forler has traveled extensively, racing both 360 and 410 sprint cars, but has returned to Montana occasionally to race again. He has been successful, as he has now won the last six times he's raced at Big Sky Speedway. After easily winning Friday's feature, Forler admitted in victory lane that he wasn't at his best Saturday and had to work for this one a bit – and have some luck fall his way.

Forler also said he intends to return for the $12,012-to-win Harvey Ostermiller Memorial in late August. Forler has won that event the last two years.

After all the chaos, Texas visitor Channin Tankersley found himself in second place and finished there after starting seventh aboard the Michael Hayashi No. 12h Kannady-powered Eagle.

Miller, after his earlier spinout while running third, came back to finish third aboard the KDM Motorsports No. 2jr Custom Automotive-powered Eagle. The Lethbridge, Alberta driver, four times a winner himself already this season, added to his points lead over Kirkland.

Billings, Montana driver Joe Perry, who had also spun out during the race, survived and came back to finish fourth after originally starting 11th. Jeremy McCune finished fifth.

Heat races earlier in the evening were won by Kirkland and Dietz.

The next scheduled event for the Frontier Region of ASCS is Friday, August 4th at Gallatin Speedway. August 5th is open but an effort is being made to fill the date. The series returns to Big Sky Speedway for the Harvey Ostermiller Memorial on August 25th and 26th.
More information on the Brodix Frontier Region of the American Sprint Car Series, as well as the American Sprint Car Series National Tour and other ASCS regional series can be found online at www.ascsracing.com. Stagg Motor Sports, the promoting company of the ASCS Frontier Region, can be found at www.staggmotorsports.com.
– – –

Brodix ASCS Frontier Region
Big Sky 360 Showdown – Night 2
Big Sky Speedway
Billings, MT
July 8, 2023

UNOFFICIAL RESULTS

Heat 1 (8 Laps): 1. 37 Trever Kirkland, 2. 01 Rich Bailey, 3. 0J Jeremy McCune, 4. 2jr Kelly Miller, 5. 2L Logan Forler, 6. 28 Joe Perry, 7. 2 Kyle Evans.

Heat 2 (8 laps): 1. 72 Phil Dietz, 2. 9k Kory Wermling, 3. 12h Channin Tankersley, 4. 2n Shad Petersen, 5. 12 Josh Ostermiller, 6. 35m Cody Masse.

Feature (25 laps): 1. 2L Logan Forler, 2. 12h Channin Tankersley, 3. 2jr Kelly Miller, 4. 28 Joe Perry, 5. 0J Jeremy McCune, 6. 12 Josh Ostermiller, 7. 37 Trever Kirkland, 8. 2N Shad Petersen, 9. 35m Cody Masse, 10. 9k Kory Wermling, 11. 72 Phil Dietz, 12. 01 Rich Bailey, 13. 2 Kyle Evans.

Lap leaders: Trever Kirkland 1-23, Logan Forler 24-25

– – –

Upcoming ASCS Frontier Region events

August 4 – Gallatin Speedway – Belgrade, MT
August 5 – TBA
August 25 – Big Sky Speedway – Billings, MT
August 26 – Big Sky Speedway – Billings, MT

July 22-29 – *non-points* WST Speedweek North in Oregon and Washington

– – –

2023 ASCS Frontier Region winners
May 19 – Kelly Miller at Big Sky Speedway
May 20 – Kelly Miller at Big Sky Speedway
May 26 – Rained out at Electric City Speedway
May 27 – Rained out at Electric City Speedway
June 9 – Postponed at Gallatin Speedway
June 10 – Postponed at Big Sky Speedway
June 16 – Kelly Miller at Gallatin Speedway
June 17 – Kelly Miller at Big Sky Speedway
July 7 – Logan Forler at BIg Sky Speedway
July 8 – Logan Forler at Big Sky Speedway

– – –
ASCS Frontier – Stagg Motor Sports
www.staggmotorsports.com
American Sprint Car Series
www.ascsracing.com