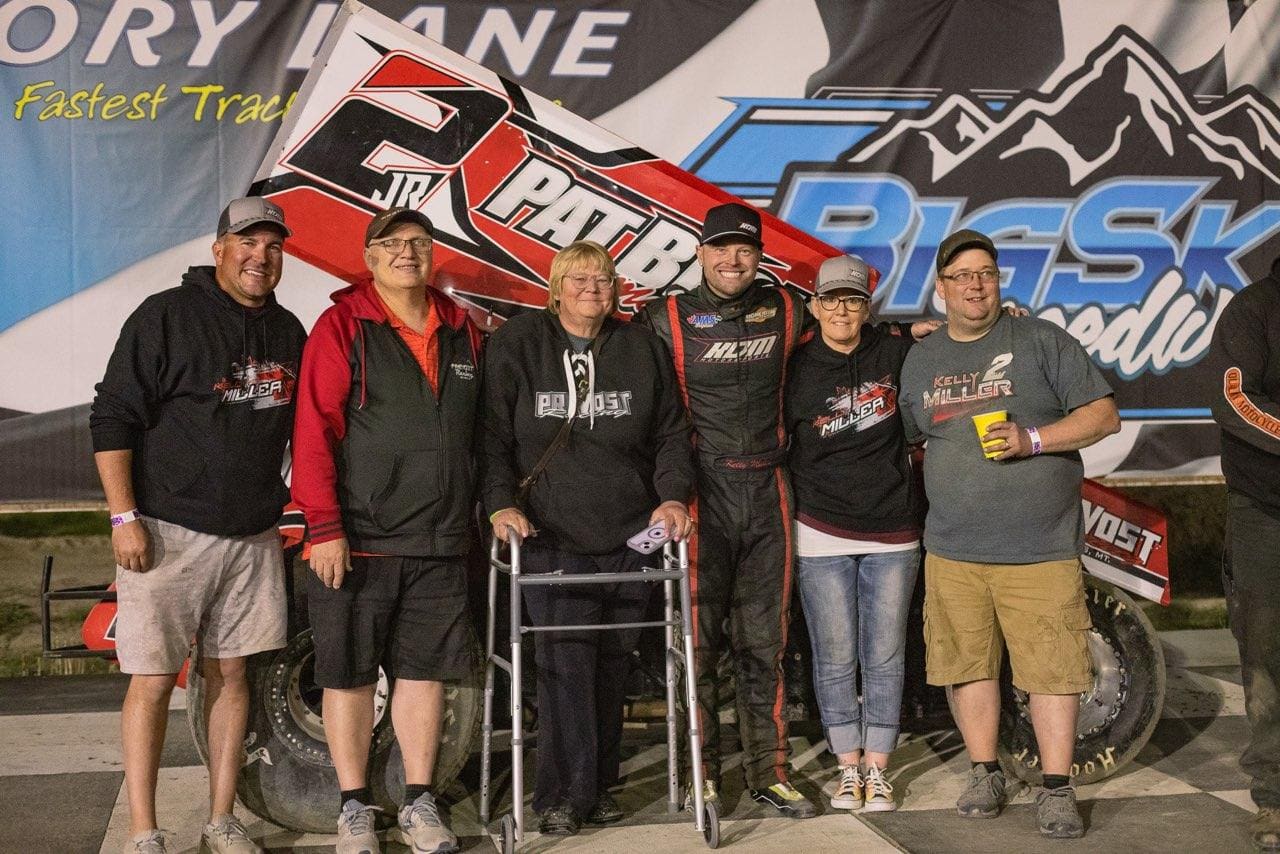 Kelly Miller doubles up ASCS Frontier at Big Sky
Andrew Kunas, Stagg Motor Sports PR
Photo credit – Jeff Quinn, Speedmax.tv
BILLINGS, MT – Kelly Miller made a further statement on Saturday, winning his second ASCS Frontier Region sprint car main event in as many nights at Big Sky Speedway to open the 2023 season.
After starting fourth in the main event, Miller ran third for a time before finding a fast line and quickly passing Kory Wermling for second place after they completed Lap 15. Already behind early leader Jeremy McCune, Miller got a big run around the top of Turns 1 and 2, flying by McCune to take the lead as they entered the back stretch. Miller proceded to drive away from there and never look back, leading the last ten laps and winning by almost five seconds aboard the KDM Motorsports No. 2jr Eagle.
The win was a continuation of a return to form the Lethbridge, Alberta driver, who went winless with the series when they returned in 2022 after not racing in 2020 or 2021 due to the border being closed. After having not win with the series in almost four years, the two wins this weekend at Big Sky Speedway have put the rest of the teams on notice that the KDM Motorsports team is back.
McCune had his best finish in a while, taking second place aboard his No. 0J Baylor-powered J&J. The Billings, Montana driver led the first 15 laps after starting on the outside of the front row. Defending series champion Trever Kirkland of Helena, Montana came from the eighth starting position to finish third aboard the Kirkland Racing No. 37 Shark-powered Triple X.
Phil Dietz of Laurel, Montana finished fourth, followed by pole-sitter Kory Wermling of Great Falls, Montana.
After Friday's main event went caution-free, Saturday's would've been so again if not for a false start on the initial start. After the false start, the race saw 25 straight green flag laps and it was over in about seven minutes.
Heat races earlier in the evening were won by Miller and McCune.
The series continues its season with a two-night stop at Electric City Speedway in Great Falls, Montana. The Memorial Meltdown is scheduled for Friday and Saturday, May 26th and 27th.
More information on the Brodix Frontier Region of the American Sprint Car Series, along with the ASCS National Tour and other ASCS regional tours, can be found online at www.ascsracing.com Stagg Motor Sports, the promoting company of the ASCS Frontier Region tour, can be found at www.staggmotorsports.com
– – –
Brodix ASCS Frontier Region
Big Sky Speedway
Billings, MT
May 20, 2023
UNOFFICIAL RESULTS
Heat 1 (8 laps): 1. 2jr Kelly Miller, 2. 9k Kory Wermling, 3. 37 Trever Kirkland, 4. 2m Abraham Hernandez, DNS – 28 Joe Perry.
Heat 2 (8 laps): 1. 0J Jeremy McCune, 2. 3 Jordan Milne, 3. 12 Josh Ostermiller, 4. 72 Phil Dietz.
Feature (25 laps): 1. 2jr Kelly Miller, 2. 0J Jeremy McCune, 3. 37 Trever Kirkland, 4. 72 Phil Dietz, 5. 9k Kory Wermling, 6. 3 Jordan Milne, 7. 2m Abraham Hernandez, 8. 28 Joe Perry, DNS – 12 Josh Ostermiller.
Lap leaders – Jeremy McCune 1-15, Kelly Miller 16-25
– – –
Upcoming ASCS Frontier Region races
May 26 – Electric City Speedway – Great Falls, MT
May 27 – Electric City Speedway – Great Falls, MT
June 9 – Gallatin Speedway – Belgrade, MT
June 10 – Big Sky Speedway – Billings, MT
– – –
ASCS Frontier on Facebook
www.facebook.com/ascsfrontier
American Sprint Car Series
www.ascsracing.com
Stagg Motor Sports
www.staggmotorsports.com