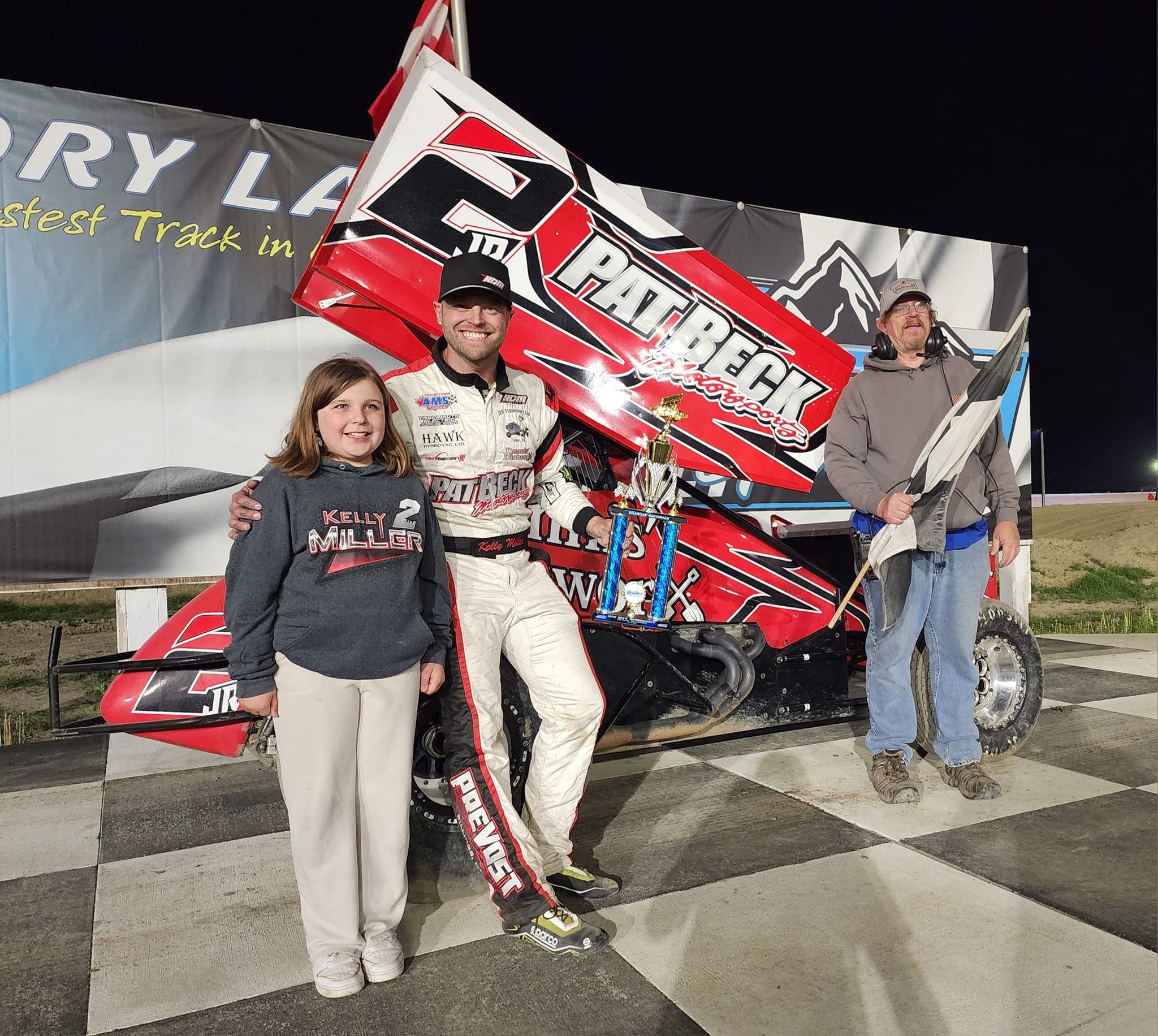 Kelly Miller scores ASCS Frontier opener at Big Sky
Andrew Kunas, Stagg Motor Sports PR
Photo credit – Andrew Kunas
BILLINGS, Mont. – After going winless in his return to the Brodix ASCS Frontier Region sprint car tour in 2022, Kelly Miller made a large statement on Friday night as he won the 2023 season opening main event in dominant fashion at Big Sky Speedway.
The Lethbridge, Alberta driver battled with defending series champion Trever Kirkland for a handful of laps early on. Miller first took the lead briefly on Lap 6, only for Kirkland to take it back and lead the next four laps. As they worked around slower cars Miller took the lead for good on Lap 11 and led the rest of the caution-free 25-lap feature, pulling away and winning by more than four seconds.
Driving the KDM Motorsports No. 2jr Eagle, Miller scored his first ASCS Frontier Region victory since 2019. Being from Canada, Miller was sidelined during the 2020 and 2021 seasons as the border was closed due to COVID-19 restrictions. Miller made up for that by running the entire 2022 season with ASCS Frontier and running as many races as they could elsewhere, but probably due to some rust they did not appear to be as much of a force as they previously were. Friday night for Miller was a return to form at a track where he won four times previously in ASCS Frontier competition.
Miller started inside the second row for the main event, passing outside front row starting Kory Wermling in the opening laps. It was just a short time before he got to Kirkland to challenge for the lead. After Miller took the lead for good, Kirkland was never able to challenge him.
After leading nine of the first ten laps, Kirkland began his title defense with a runner-up finish aboard the Kirkland Racing No. 37 Shark-powered Triple X, this following a heat race win earlier in the evening for the Helena, Montana driver.
Five-time Montana sprint car champion Phil Dietz of Laurel, Montana made a late race pass around Wermling to finish third aboard the Dietz Racing No. 72 Rodgers-powered Maxim. Dietz won the other heat race earlier. Wermling, who finished second in the ASCS Frontier Region points last year, eventually finished fourth in his No. 9k Two Dot-powered Maxim. Joe Perry was fifth in the Chuck Perry No. 28 Don Ott-powered Maxim.
The series continues its season opening weekend at Big Sky Speedway on Saturday night.
More information on the Brodix Frontier Region of the American Sprint Car Series, along with the ASCS National Tour and other ASCS regional tours, can be found online at www.ascsracing.com Stagg Motor Sports, the promoting company of the ASCS Frontier Region tour, can be found at www.staggmotorsports.com
– – –
Brodix ASCS Frontier Region
Big Sky Speedway
Billings, MT
May 19, 2023
UNOFFICIAL RESULTS
Heat 1 (8 laps): 1. 37 Trever Kirkland, 2. 0J Jeremy McCune, 3. 38b Bryan Brown, 4. 24m Ian Myers, 5. 12 Josh Ostermiller, DNS – 01 Rich Bailey.
Heat 2 (8 laps): 1. 72 Phil Dietz, 2. 2jr Kelly Miller, 3. 9k Kory Wermling, 4. 28 Joe Perry, 5. 3 Jordan Milne.
Feature (25 laps): 1. 2jr Kelly Miller, 2. 37 Trever Kirkland, 3. 72 Phil Dietz, 4. 9k Kory Wermling, 5. 28 Joe Perry, 6. 0J Jeremy McCune, 7. 24m Ian Myers, 8. 3 Jordan Milne, 9. 38b Bryan Brown, 10. 12 Josh Ostermiller, 11. 01 Rich Bailey.
Laps leaders: Trever Kirkland 1-5, Kelly Miller 6, Kirkland 7-10, Miller 11-25
– – –
Upcoming ASCS Frontier Region races
May 20 – Big Sky Speedway – Billings, MT
May 26 – Electric City Speedway – Great Falls, MT
May 27 – Electric City Speedway – Great Falls, MT
June 9 – Gallatin Speedway – Belgrade, MT
June 10 – Big Sky Speedway – Billings, MT
– – –
ASCS Frontier on Facebook
www.facebook.com/ascsfrontier
American Sprint Car Series
www.ascsracing.com
Stagg Motor Sports
www.staggmotorsports.com