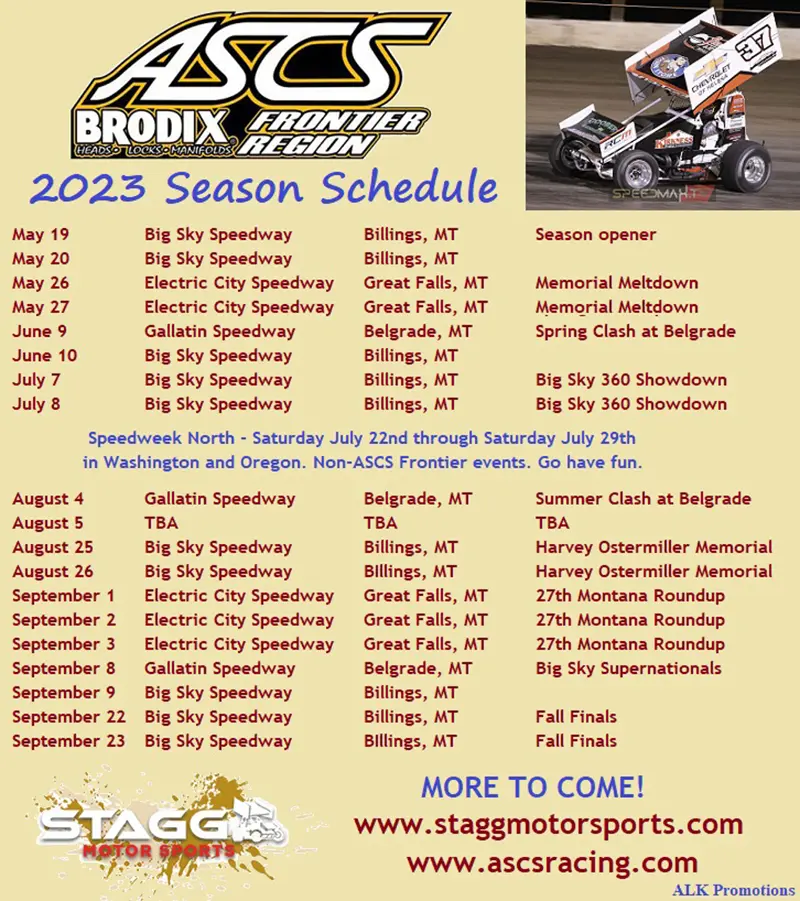 COEUR d'ALENE, Idaho – The 2023 schedule for the Brodix Frontier Region of the American Sprint Car Series was released on Wednesday, currently holding 18 scheduled races across the state of Montana with one more to be announced.
The 11th season of 360 winged dirt sprint car racing in Montana under the ASCS banner begins with a two-night event at Big Sky Speedway on Friday and Saturday, May 19th and 20th. The 3/8-mile Billings clay oval will host the bulk of the series' races in 2023, with ten shows currently scheduled there. It will also host a two-night event to close out the season on Friday and Saturday, September 22nd and 23rd. Other events include Saturday, June 10th, a two-night summer showdown on Friday and Saturday, July 7th and 8th, and another Saturday night show on September 9th.
The big news of the off-season was the Harvey Ostermiller Memorial, run in memory of the Montana sprint car pioneer, getting an enormous payout boost for 2023 and setting new series records on consecutive nights, August 25th and 26th at Big Sky Speedway. Friday's $3,000 payday will be – for just one night – the largest ever for an ASCS Frontier Region event outside of those part of ASCS National Tour races. That record will be smashed the next night when drivers race for a whopping $12,012 to win and get $512 just to start the main event. The number 12 represents Ostermiller's car number as a driver and later an owner. It is believed the $12,012 will be the largest winner's payday ever for a dirt sprint car race in the state of Montana.
The historic Electric City Speedway in Great Falls will host the series on Memorial weekend for the second straight year, holding Friday and Saturday night events on May 26th and 27th. The series will return to Great Falls for the 27th edition of the traditional Montana Roundup on Labor Day weekend, September 1st, 2nd and 3rd. The 3/10-mile dirt oval has hosted dirt track racing since the 1950's.
With the high-paying Harvey Ostermiller Memorial and the always popular Montana Roundup coming on back-to-back weekends, plans for off-track activities during the week between the events are in the works for travelers wanting to race both shows. Activities for that week will be announced when they are finalized.
Gallatin Speedway, central Montana's longtime home for Friday night dirt track racing, and the lone track to be on the schedule every year since the Frontier Region's inception in 2013, currently has three races, all Fridays. The series first visits on June 9th and comes back again on August 4th. As it has for the last several years, the ASCS Frontier Region sprint car series will be the Friday show of the track's annual Big Sky Supernationals on September 8th. The fans at the 3/10-mile clay oval in Belgrade, just outside of Bozeman, have always loved their sprint car racing as the ASCS Frontier Region frequently races in front of a packed grandstand.
One other potential event on Saturday, August 5th is currently listed as to be announced. When that date is finalized, it will be announced.
Trever Kirkland of Helena, Montana is the reigning series champion, winning his first title under the ASCS banner with four race victories in 2022.
The series is again under the leadership of Laurel, Montana's Josh Stagg, who took over the reins in the middle of the 2020 season and is now entering his third full season at the helm of the Brodix ASCS Frontier Region sprint car tour. Before diving head first into the role of series promoter and coordinator, Stagg was a part of two ASCS Frontier Region titles as a crewmember and sponsor for David Hoiness in 2017 and 2018. Andrew Kunas of Coeur d'Alene, Idaho also returns as the PR man, helper behind the scenes and as the voice of Montana sprint car racing behind the microphone.
The ASCS Frontier Region is taking a break in late July, allowing interested teams to travel to the Pacific Northwest for the Western Sprint Tour's Speedweek North, currently consisting of six races – and one more TBA – in Oregon and Washington. All races will pay at least $2,000 to win and it ends with the $10,000-to-win Summer Nationals on Friday and Saturday, July 28th and 29th at Skagit Speedway in Burlington, Washington. Grays Harbor Raceway in Washington opens that speedweek on Saturday and Sunday, July 22nd and 23rd, and Cottage Grove Speedway and Sunset Speedway in Oregon are also hosting events. A number of drivers and teams who were full or at least part-time in ASCS Frontier had expressed interest in traveling for that speedweek or even just the Summer Nationals at Skagit in recent years but scheduling conflicts had prevented them from doing so.
Staying off that speedweek is part of the ongoing, long term efforts by Stagg Motor Sports and other promoters in neighboring areas of the country on schedule coordination and cooperation. While not all scheduling conflicts will be avoided, this is in an effort to allow race teams from different areas to travel for special events elsewhere and not lose on the home front to do so. While Speedweek North in Washington and Oregon will not be ASCS Frontier Region events, Stagg Motor Sports is encouraging interested teams to go if they are able to. This is also, of course, in an effort to get travelers from the West Coast and elsewhere out to special ASCS Frontier Region events such as the Harvey Ostermiller Memorial and the Montana Roundup.
While the 2023 schedule was released on Wednesday, there is more work to be done before the season begins May 19th and 20th at Big Sky Speedway. More details will be released when ready as the season approaches.
More information on the Brodix Frontier Region of the American Sprint Car Series, along with news and info on the Lucas Oil ASCS National Tour and other ASCS regional tours, can be found online at www.ascsracing.com. Stagg Motor Sports, the promoting company of the ASCS Frontier Region, can be found at www.staggmotorsports.com.
– – –
American Sprint Car Series – Frontier Region
2023 schedule
May 19 – Big Sky Speedway – Billings, MT
May 20 – Big Sky Speedway – Billings, MT
May 26 – Electric City Speedway – Great Falls, MT
May 27 – Electric City Speedway – Great Falls, MT
June 9 – Gallatin Speedway – Belgrade, MT
June 10 – Big Sky Speedway – Billings, MT
July 7 – Big Sky Speedway – Billings, MT
July 8 – Big Sky Speedway – Billings, MT
August 4 -Gallatin Speedway – Belgrade, MT
August 5 – TBA
August 25 – Big Sky Speedway – Billings, MT
August 26 – Big Sky Speedway – Billings, MT
September 1 – Electric City Speedway – Great Falls, MT
September 2 – Electric City Speedway – Great Falls, MT
September 3 – Electric City Speedway – Great Falls, MT
September 8 – Gallatin Speedway – Belgrade, MT
September 9 – Big Sky Speedway – Billings, MT
September 22 – Big Sky Speedway – Billings, MT
September 23 – Big Sky Speedway – Billings, MT
– – –
ASCS Racing
www.ascsracing.com
Stagg Motor Sports
www.staggmotorsports.com
ASCS Frontier Region on Facebook
www.facebook.com/ascsfrontier
Contact:
Josh Stagg, ASCS Frontier Region coordinator & promoter – josh@staggmotorsports.com
Andrew Kunas, public relations & announcer – andrew@staggmotorsports.com