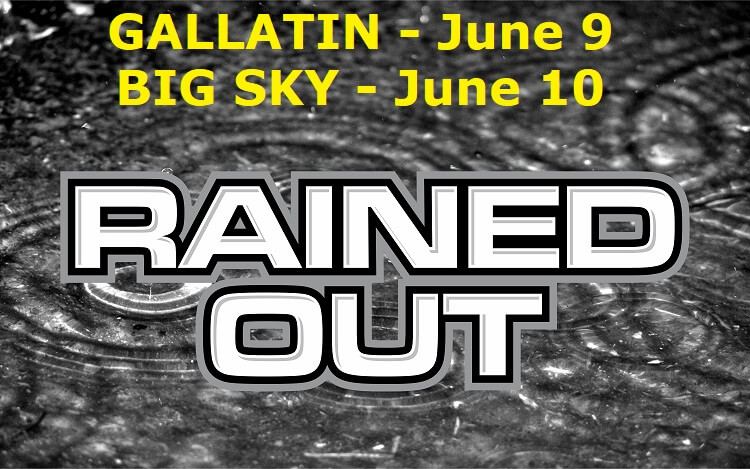 Weather halts ASCS Frontier at Gallatin & Big Sky
Andrew Kunas, Stagg Motor Sports PR
This weekend's ASCS Frontier Region sprint car races have been canceled due to poor weather conditions, including Friday's event at Gallatin Speedway and Saturday's event at Big Sky Speedway. Stagg Motor Sports and both tracks are discussing rescheduling their respective events at this time and will announce plans as soon as possible.
Friday's event was to be the first of three this season at Gallatin Speedway, located in Belgrade, Montana. While the weather there now is good, there was far too much rainfall this week and there is a great amount of standing water on the grounds, including the parking lot and pit area, making it impossible to race as scheduled.
Big Sky Speedway, outside Billings, had already hosted the series twice this season. It too has standing water on the grounds and more poor weather is expected for the Billings area on Saturday, also making cancelation necessary for them.
Kelly Miller of Lethbridge, Alberta has won both ASCS Frontier Region sprint car races run so far this season and holds the points lead.
More information on the Brodix Frontier Region of the American Sprint Car Series, as well as the American Sprint Car Series National Tour and other ASCS regional series can be found online at www.ascsracing.com. Stagg Motor Sports, the promoting company of the ASCS Frontier Region, can be found at www.staggmotorsports.com.
– – –
Upcoming ASCS Frontier Region events
June 9 – Gallatin Speedway – Belgrade, MT
June 10 – Big Sky Speedway – Billings, MT
– – –
2023 ASCS Frontier Region winners
May 19 – Kelly Miller at Big Sky Speedway
May 20 – Kelly Miller at Big Sky Speedway
May 26 – cancelled due to weather at Electric City Speedway
May 27 – cancelled due to weather at Electric City Speedway